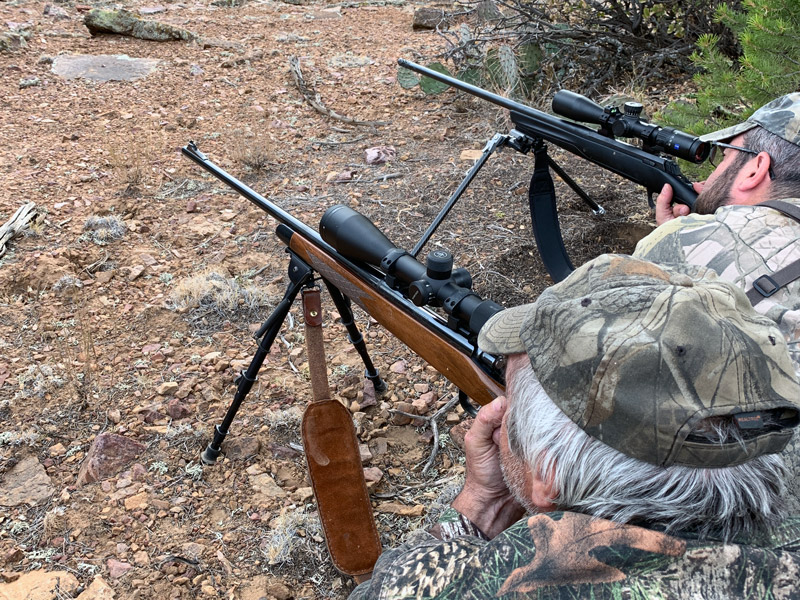 Western Hunting Shooting Platforms
An accurate shooting rifle is the most critical piece of hunting gear if you are going on a guided western big game hunt.  We often tell our hunters they should be proficient in shooting from 100-500 yards, but if your effective range is north of 500 then you are definitely increasing your odds at being successful.  We try in every way possible to get our hunters into the prone position (especially for shots over 500 yards) but the truth is about 60-75% of the shot opportunities will be from the seated position.
One piece of gear that often gets over looked or perhaps not chosen wisely is a shooting platform/rest:
shooting sticks
tripod
bipod
Over the years we have come to the conclusion that we want to minimize gear & weight in our packs, while still remaing effective.  We already know we are bringing a carbon fiber tripod with us on our hunts because they are the platform we use to glass from when hunting western big game.  We will occasionally use our tripods to shoot off of  because they can be a great rest while in a seated or standing position.  With that said, tripods are bulky & can be time consuming to set up when using them as shooting platforms.  Carbon fiber tripods have their place in a western hunting shooting platform system, but they are not our stand alone top choice.
Shooting sticks biggest value is they are the least expensive out of the other rest options.   They are nice to use because you can get taller versions for shooting over brush or when seated on side hills, which was nearly impossible to find when talking about bipods.  There are many shooting stick negatives, which is simply why we don't recommend them anymore.  First, they are an extra piece of gear that adds both weight & bulk to your overall hunting system.  Second, the most popular version is the Trigger Stick which is made out of plastic & aluminun, both these materials are much noiser & less durable than a carbon fiber tripod or bipod.  Third, unlike a bipod you can't attach them to the forend of your rifle therefore you either have to carry them in your hand or put them in your pack, when stalking an animal.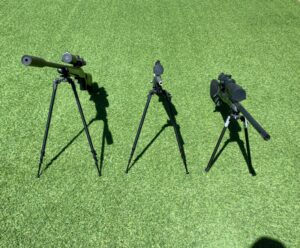 For many years western hunters had limited bipod options, which is why many hunters chose the other combonation of rest options.  Many of the traditional seated bipods would only go to a 27″ max height, which was an issue in high brush or when seated on angled mountain slopes.   This factor is one reason why we don't just recommend any bipod, we recommend the P234 by ROKSTEDi.  Having a bipod which is stable, ridged, vesitile, light & allows you to shoot in long range prone postions while having a max height of 34″ is simply hard to beat on the mountain.
P234 Hunting Bipod by ROKSTEDi